Apple Drink #10 can
Click to enlarge image(s)
This vitamin fortified apple drink is just the drink that you will want to have with your breakfast. Apple drink is a great item to take with you on camping trips and backpacking trips. This drink mixes up really easy and it is easy to pack. Apple drink is a great drink that can compliment any meal including breakfast. This is a need for your long term food storage needs.
Ingredients: Sugar, Malic acid, Natural and Artifical Flavor, Vitamin C, Caramel Color, Niacin, Vitamin E, Zinc, Vitamin B12, Vitamin B6, Vitamin A, Folic Acid, Vitamin D3, Biotin.
Also Includes:
Vitamin D 10% Vitamin E 10%
Niacin 10% Vitamin B6 10%
Folate 10% Vitamin B12 10%
Biotin 10% Zinc 10%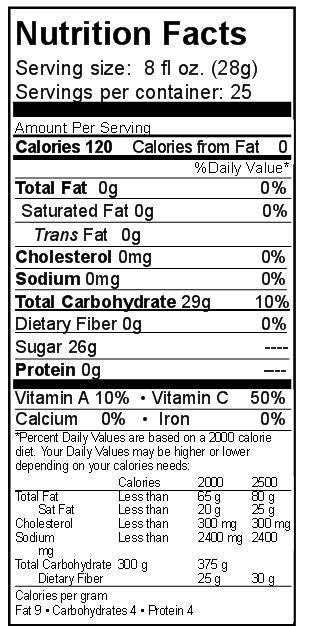 Directions: To make one quart, add ½ cup rounded cup of mix to 1 quart of cold water. Mix well and allow to chill. Yields 4 one cup servings.
Shelf life estimates are based on industry studies from sources deemed reputable. Since we have no control over individual storage practices, we must disclaim any liability or warranty for particular results.
Shelf Life: Should be stored in cool dark place- optimum condition is 60 degrees or less- for longer storage. Storing properly in our enameled cans, product may store 20+ years. Bulk products need to be repackaged for long term storage.
Packaged in a plant that contains milk, wheat, eggs, soy, and tree nut products.