Dehydrated Apple Slices #10 can
Click to enlarge image(s)
These dehydrated apple slices are a versatile product to have on hand. These low moisture apple slices are ideal for long term storage. Apple slices are great to add to recipes to spice them up a bit. These can be used to throw in muffins, pancakes, waffles, oatmeal, and other cereals. Apple slices can be eaten right out of the can. They are great for an on-the-go snack. You can throw them in your own special trail mix that your family just loves. Use these slices to make your famous apple pie or your favorite apple dessert like apple crisp.
Ingredients: Low moisture apple slices, food grade calcium stearate (prevent caking), sulfur dioxide and sodium sulfite (preservative).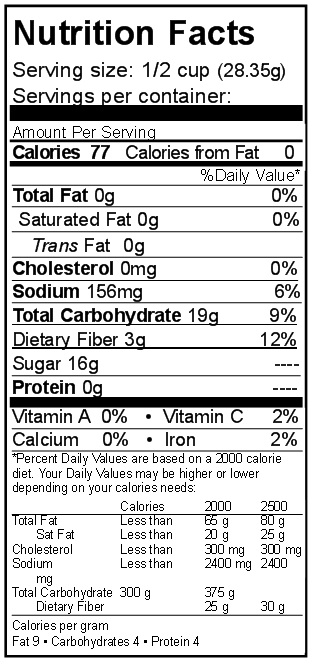 Directions: Cover apples with hot water (approximately 1/2 cup apple to 3/4 cup water). Allow to stand for 30 minutes. stir occasionally. If cooked apples are desired, bring apples and water to a boil and simmer until tender. For use in pies, add sweetener and spices. Great for trail mixes, snacks or any recipe where apple is wanted.
Packaged in a plant that handles milk, wheat, eggs, soy, and tree nut products.
Shelf life estimates are based on industry studies from sources deemed reputable. Since we have no control over individual storage practices, we must disclaim any liability or warranty for particular results.
Shelf Life: Should be stored in cool dark place- optimum condition is 60 degrees or less- for longer storage. Storing properly in our enameled cans, product may store 25 years.